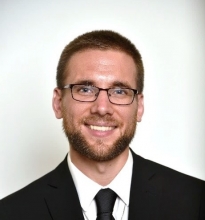 St. Michael Church
345 Edwards Street
Grand Ledge, MI 48837
United States
I grew up in a family of five in Grand Ledge at St. Michael's Parish and attended public schools through high school. Growing up, I enjoyed playing sports with friends including football, basketball, and golf. In school, my interests in math and science led me to pursue an engineering degree at Michigan State University where I graduated with a degree in Materials Science and Engineering in 2015. After graduating, I worked in Saginaw as an engineer for three years while living at a Catholic men's formation house in Flint. In response to Our Lord's gentle yet persistent call to enter seminary, I began priestly formation for the Diocese of Lansing at Sacred Heart Seminary in the fall of 2018.
I give thanks to God, the Father of Our Lord Jesus Christ, for the countless graces I have received through the sacramental life of the Church. Please pray for me as I seek to grow closer to Our Lord in this time of discernment at seminary. Through the intercession of Our Blessed Mother Mary, may you be richly blessed!