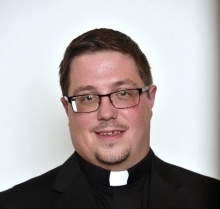 Immaculate Heart of Mary Church
Lansing, MI 48910
United States
Hello. My name is Corey Bilodeau and I am from Lansing and my home parish is Immaculate Heart of Mary.  I am Theology seminarian studying at Sacred Heart Major Seminary.  I entered seminary because I could no longer do anything else with my discernment besides taking the leap of faith and "going out into the deep" to follow Jesus. I needed to start seeing what it was like to be a priest by doing the types of things they do like daily mass, daily Holy Hour, praying the liturgy of the hours, praying the rosary, spiritual direction, learning philosophy and theology, etc.
Coming back to Sacred Heart for my second year has been a blessing. Over the past year God has stretched, strengthen and transformed my life. I am not the same man I was when I entered and the funny thing is that I still have many more things that God needs to fix before I can, god willing, become one of His priests. This has brought me nothing but, peace and joy.  All I have asked God for was to let me draw closer to Him and to let my will become His will.
One thing that I learned while going through formation came from the month I spent in Calcutta, India where I volunteered with the MC Sisters.  While I was there, I learned what it really means to be in poverty and that the love of God knows no bounds.  As Saint Teresa of Calcutta states; "Not all of us can do great things, but we can all do small things with great love".  I have found that it's the little things we do in life allow Jesus to shine.