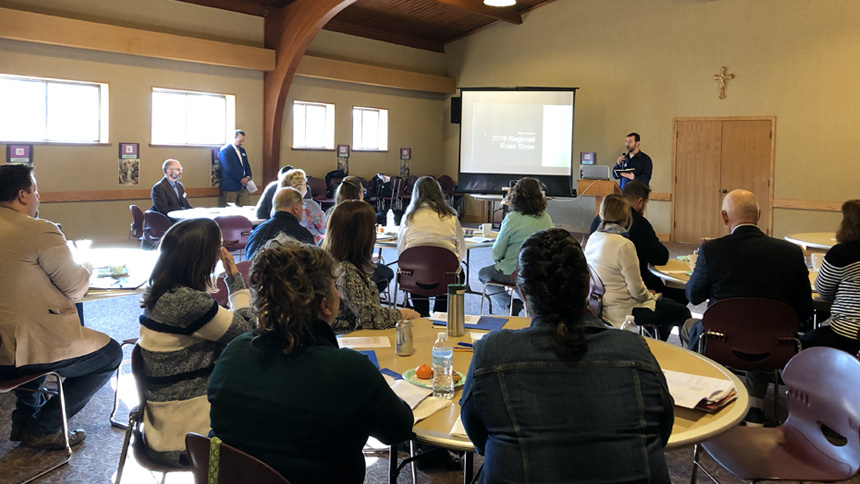 Spring Regional Meeting:   June 16 at St. Mary Magdalen, Brighton
The Regional Meetings are annual meetings held each spring and run by members of the diocesan Curia. The meetings are meant to bring parish lay ministers together for timely presentations, discussions, and prayer.
This year we will discuss Realigning Resources for Mission with members of the RRM Committee. There be time set aside to pray together  and plenty of time for working through questions as well as group discussion. 
Our goal is to provide for you the most up-to-date information about the process and provide an opportunity for you to give feedback and ask questions. This experience will help you be informed about the plans and be a part of its development by providing your insights to both the RRM Committee and Bishop Boyea.
With that in mind, together with the advancing date, we have decided to combine our two meetings into one. This also gives us an opportunity to meet with you after the RRM Committee's proposal is shared with the priests. This opens up the opportunity for the priests to have discussions with their staff if they choose to do so.  Then our time at the Regional Meeting with the RRM Committee will be a fruitful engagement on the topic. 
Date: June 16
Location: St. Mary Magdalen, Brighton
Members of the Regional Meeting Team:
Rich Budd – Director of Marriage and Family
Tim Carpenter – Director of Religious Education
Susana Chapa – Director of Hispanic Ministries
Brian Flynn - Director of Middle School and HS Ministry
Dawn Hausmann – Director of Consecrated Vocations, Young Adult Ministry, and Delegate for Consecrated Life
Jenny Ingles – Director of Fertility and Life Ministries
Craig Pohl – Director of Evangelization
Jeremy Priest – Director of the Office of Worship
Bert Schomberger – Lay Ministry Coordinator