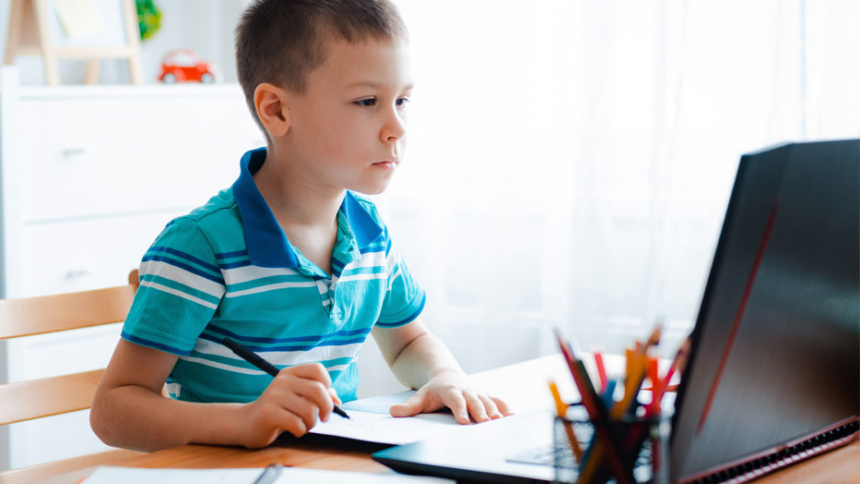 Instructional Schedule / Number of Synchronous v. Asynchronous Learning Opportunities
Students with Special Needs, Accommodations, ELL
Summative and NWEA Assessments
LMS / Method for Posting/ Collecting Assignments
SEL / Mental Health Support (for students/parents)
Teacher Mental Health/Well-Being
Expectations with Synchronous Meets (e.g. quiet area, away from distractions)
---
What follows is the result of consultation with other dioceses, health departments, and in line with Governor Whitmers' State of Michigan Safe Start Plan. Remaining thoughtful of the feedback from principals within the Diocese of Lansing, parent/guardian and staff surveys, the Office of Catholic Schools has produced this document of recommendations of distance learning. 
While the following presents the Office of Catholic Schools' distance learning recommendations, schools ought to consider designating days/times for usage of online learning even when/if they are permitted to reopen and hold in-person classes, so as to maintain familiarity with the online learning platforms and to ensure a smooth transition for all (students, parents, and teachers) during periods of distance learning.
Instructional Schedule / Number of Synchronous v. Asynchronous Learning Opportunities
Each school will determine the details of a daily/weekly instructional schedule and the amount of synchronous or asynchronous learning opportunities. The following are broad daily recommendations of appropriate time based on age and developmental level of students engaged in distance learning.  
Pre-K:             60 minutes/day
Grades K-1:    90 minutes/day
Grades 2-3:    120 minutes/day
Grades 4-5:    150 minutes/day
Grades 6-8:    180 minutes/day
Grades 9-12:   220 minutes with a minimum of 120 minutes contact time
Consideration should be given to arranging the instructional schedule to allow for sufficient teacher preparation time, planning, and grading. For example, a school could alternate instruction days for specific subjects and provide teacher office hours to consult and conference with parents and/or students.
Catholic Curriculum
Religion/ Catholic Faith should be integrated daily at all levels.
Weekly Virtual Mass should be provided.
Principal morning meeting w/school community as frequent as possible (synchronous or asynchronous when/if not possible to go live), lead prayer, share Saint of the day, scripture passage, etc.
Schools should provide virtual retreats and opportunities for spiritual growth to parents, students and staff.
Students with Special Needs, Accommodations, ELL
K-8
Administrators should ensure that Accommodation Plans are made digitally accessible to the teachers at all times.
Teachers and counselors should collaborate in communications with parents to ensure needs of each student are met.
Administrators should strive to ensure that accommodations are made to the best of the school's ability.
Administrators should arrange for a reasonable number of check-ins with the parents of students with accommodations from appropriate staff (e.g., counselor, teacher, interventionist, administrator) to ensure students' needs are addressed.
9-12
Establish a system of frequent monitoring and intervention for students with accommodation plans that utilizes the resources available at the individual school to ensure that students' needs are met, regardless of format of delivery.
Technology/Devices
ALL LEVELS
Schools should ensure that students have access to a web-enabled device that is compatible with the platforms utilized for distance learning (synchronous/asynchronous).
Schools should establish a protocol for students (or parents depending on level) to address technical issues (who to contact and how).
Attendance Policy
Attendance expectations must be clearly articulated to both parents and students at all levels.
ELEMENTARY
Administrators should require parents to acknowledge the day's lessons to ensure parents are informed of each day's learning goals and/or expectations. The process should be streamlined on a school shared site. Administrative staff should follow up with parents as needed.
Teachers should require and take attendance at synchronous meetings to hold students accountable. Teachers should follow-up with parents if students are absent and/or report any concerns to administration.
HIGH SCHOOL
Attendance at synchronous instruction is highly recommended and developing methods of checking on the health and well-being of all students is encouraged (e.g., regular reports from teachers to administrators indicating student absences or concerns about students).
Grading and Accountability
ELEMENTARY (K-8)
Maintain standard method of grading for grades K-8 (e.g., K-3 uses the diocesan standard-based model while grades 4-8 employ traditional grades).
Late work policy should allow for flexibility in times of crisis (e.g., giving students the opportunity to earn credit up to one week before each card-marking ends).
Failures should be rare and should only occur if all efforts to help have been exhausted.
The grading policy and expectations must be clearly communicated to the students and parents.
Specials - Provide flexibility to families in need; In some cases, specials are provided by shared- time teacher who must follow grading procedures of the public school district.
HIGH SCHOOL
Maintain regular grading practices for student work. In a distance learning environment, teachers should post grades more frequently than under regular circumstances.
Schools should establish and communicate specific timelines for posting grades.
Summative and NWEA Assessments
PREK-1
Literacy assessments should be 1-1.
Science/SS/Math may be assessed in small groups.
PreK/K frequency should be during the first weeks of school, between winter and   spring   breaks, early May (BOY, MOY, EOY).
2-3
4-5
Math/Literacy assessed in small groups.
BOY, MOY, and EOY frequency.  Follow diocesan NWEA testing windows as scheduled.
6-8
Math/Literacy assessed in small groups.
Other subjects may be project-based or capstone.
BOY, MOY, and EOY frequency; follow diocesan NWEA testing windows as scheduled.
It is recommended that teachers do not assign additional work (other than review) during testing week.
TESTING
Remote Testing options should only allow for teachers as proctors via zoom either with small group or one-on-one if needed for accommodations.
Planning for a return to school this fall, BOY NWEA testing will be done in the school building (provided the Governor does not change previous announcement which indicated a return to the school buildings at the start of the school year).
Schools will need to manage communications with teachers, parents and students regarding the possibility of remote testing during MOY and/or EOY.
HIGH SCHOOL
Schools should plan for alternative forms of summative assessment if circumstances prohibit the administration of traditional forms of assessment.
LMS / Method for Posting/ Collecting Assignments
ELEMENTARY
Schools should limit the number of sites students and parents must visit for posting and collecting assignments. One shared site such as Seesaw, Classroom Dojo, or Google Classroom is recommended.
The schedule for posting and collecting assignments should be clearly articulated to both parents and students.
HIGH SCHOOL
The method for assigning work and communication of assignment due dates and submission times should be uniform building-wide and should be clearly communicated. For example, by Monday at 9:00 a.m., student assignments and expectations for the week should be posted and accessible.
Online Curriculum Enrichment
ELEMENTARY
Schools may decide locally which online resources will best serve their students to supplement teacher instruction.
HIGH SCHOOL
Schools should place an emphasis on direct instruction by teachers via multiple methods (live instruction, recorded videos, etc.). Online resources such as Khan Academy, YouTube, etc. should serve as a supplement to live instruction rather than replacing it.
SEL / Mental Health Support (for students/parents)
PREK-1
Pictorial depiction of mood check-in daily.
2-8
Daily mood check-in via google form.
Teachers should share form data with counselors to assist with necessary follow-up.
PREK-8
Teachers may consider using grade-appropriate books/stories in lessons w/students to help younger students articulate their emotional well-being.
Communicate SEL to parents in grade level bands (PreK-1, 2-4, 5-8).
Repeat the communication to parents at start of every closure.
HIGH SCHOOL
Each school should establish a procedure for monitoring student well-being.
ALL LEVELS
Schools should consider the mental health and welfare of parents/families, especially in understanding various circumstances (e.g., work from home, illness, loss, changes in employment) of each family during periods of remote learning.
Schools should provide resources (e.g. mental health professionals, crisis hotlines, spiritual support) at the start of each period of remote learning.
Schools should provide a reasonable number of check-ins with parents/families to ensure they are supported.
Teacher Mental Health/Well-Being
ELEMENTARY
Principals should provide access to mental health experts and resources during times of crisis and remote learning (e.g. Lifeworks for staff under MCC).
Time frames should be established and communicated (between teacher and parents, and between principals and teachers) regarding when to contact teachers and when to expect return emails/phone calls.
Provide for synchronous social connections weekly, if possible, among staff members to maintain a sense of community.
A reasonable number of 1-1 check-ins from administrators to staff members to ensure safety, health, welfare.
HIGH SCHOOL
When creating academic schedules, take into consideration the additional time and effort that is necessary in a remote instruction environment and adjust accordingly by providing ample planning time for teachers to be successful.
Establish a regular schedule of virtual faculty meetings.
Provide opportunities for informal/social gatherings of teachers to check in with one another.
Regularly communicate with staff members about resources and opportunities for mental health support (e.g., Lifeworks through MCC, etc.).
School administrators and/or pastoral staff should be attentive to the individual health and wellness needs of fellow employees and provide additional resources.
Teacher Evaluations
ELEMENTARY
Administrators and teachers should agree upon an evaluation (formal/informal) policy during remote instruction.
Informal observations during synchronous meetings should offer helpful feedback to the teacher.
Offering teachers the opportunity to observe one another in the remote setting is recommended to encourage collaboration and offer support.
HIGH SCHOOL
Continue the observation and evaluation process with the understanding that there are challenges that teachers face in a remote teaching environment.
Prioritize the completion of evaluations during times of live instruction.
PD for Teachers
ALL LEVELS
Encourage engagement in DOL Uniform PD Days.
Encourage engagement in school building Teacher PLCs once a month.
Principals should strive to provide relevant PD to address the needs of their teachers and students and will continue with diocesan initiatives in this area.
Principals should consider classroom learning labs in which teachers may visit one another's synchronous sessions.
Substitute Teachers
ALL LEVELS
Acquaint any substitute teachers with the technology and online resources being used.
Ensure administrators have complete access to lesson plans AND all online learning platforms the teacher is using in the event they need to conduct the synchronous sessions or employ a substitute.
Expectations with Synchronous Meets (e.g. quiet area, away from distractions)
ALL LEVELS
Administrators should require that all teachers use a shared calendar indicating all synchronous connections.
Administrators should inform teachers that they may drop in it at any time in an effort to ensure safety and protection of students.
Schools and teachers should collaborate to create clearly articulated rules/expectations of students for synchronous meets. For example: https://docs.google.com/document/d/1ijk2pHL9dJ32xbFx T1t9YVv3XLU30yHI8bd6GL4RBjk/edit
Administrators should clearly articulate professional decorum expectations to teachers for synchronous meets (e.g. setting and dress should mimic classroom norms).
Resources
Anastasiades, P., Filippousis, G., Karvunis, L., Siakas, S., Tomazinakis, A., Giza, P., & Mastoraki, H. (2010). Interactive Videoconferencing for collaborative learning at a distance in the school of 21st century: A case study in elementary schools in Greece. Computers & Education 54, 321- 339.
Benson, R., & Samarawickrema, G. (2009). Addressing the context of e-learning: Using transactional distance theory to inform design. Distance Education, 30 (1), 5–21. Retrieved from: https://doi.org/10.1080/01587910902845972
Cavanaugh, C. (2007). Student achievement in elementary and high school. In Moore, G. (Ed.). Handbook of Distance Education, 2nd ed. (pp. 157-166). Mahwah, NJ: Lawrence Erlbaum Associates, Publishers.
Ferdig, R. (2007). Teaching and learning literacy and language arts online. In Cavanaugh, C. &
R. Blomeyer. (Ed.). What works in K-12 online learning (pp.49-66). Eugene, OR: International Society for Technology in Education.
Gorsky, P., & Caspi, A. (2005). A critical analysis of transactional distance theory. The Quarterly Review of Distance Education, 6(1), 1–11. Retrieved from: https://www.researchgate.net/ publication/228651586_A_Critical_Analysis_of_Transactional_Distance_Theory.
Huang, X., ha. ndra, A., DePaolo, C. A., & Simmons, L. L. (2016). Understanding transactional distance in web-based learning environments: An empirical study. British Journal of Educational Technology, 47(4), 734-747. Retrieved from: https://doi.org/10.1111/ bjet.12263.
Icard, S. B. (2014). Educational technology best practices. International Journal of Instructional Technology and Distance Learning. 11(3), 37-41. Retrieved from: http://itdl.org/Journal/ Mar_14/Mar14.pdf#page=41.
Joksimović, S.. , Gašević, D., Kovanović, V., Riecke, B. E., & Hatala, M. (2015). Social presence in online discussions as a process predictor of academic performance. Journal of Computer Assisted Learning, 31(6), 638-654. Retrieved from: https://doi.org/10.1111/jcal.12107.
Murphy, E., & Rodriguez-Manzanares, M. A. (2009). Teachers' perspectives on motivation in high school distance education. Journal of Distance Education, 23(3), 1-24.
Reilly, J. (2020). Online teaching for K-12 schools: What the research says. John Hopkins Center for Research and Reform in Education. Retrieved from: http://jhir.library.jhu.edu/ handle/1774.2/62397.